Cadwell April 2012
Click here to get back to index page
Karting Legends at Cadwell HSCC 2012 - "Wolds Trophy" Historic Race Meeting
Just a bit of a wet meeting. Thanks to the HSCC and in particular the organising team and Graham White. Great atmosphere just a shame that the weather put the damper on things a bit. Fantastic level of interest in the display. Seems most of the drivers were karters in the past. Congratulations to Derek Rogers on getting a 3rd in the HSCC Historic Formula Ford Race 2 - Quite a battle for the 3rd position but Derek held the position and certainly seemed delighted with the result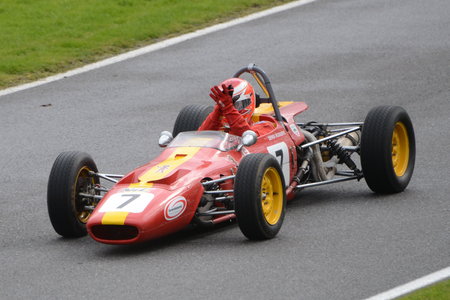 To see the photos of the Historic Cars - Click here. Karting Legends Photos Below
And our thanks go to our Viv for looking after us so well and keeping us organised.
So on to the karts - Great turnout and some well presented karts which can be seen by the photos below.
Off to the collection area
Its back to the awning - Conditions deteriorating and safety concerns pospone the demo
Just a little bit of info behind this kart.
Aero Panther with a 250 Yamaha TD3.
Found in a barn in Blackpool in 2010 where it has been since the 1980's. Restored by Paul Gallagher and it would seem that the kart is the original used by Steve Styrin who was British Champion in 19??? the and drove for the Aero Team. The kart info is to be verified shortly. - Great restoration Paul.
Hi Tony